Mary Church Terrell was an African American writer, educator and social activist who advocated for racial equality and women's suffrage in the late 19th and early 20th century.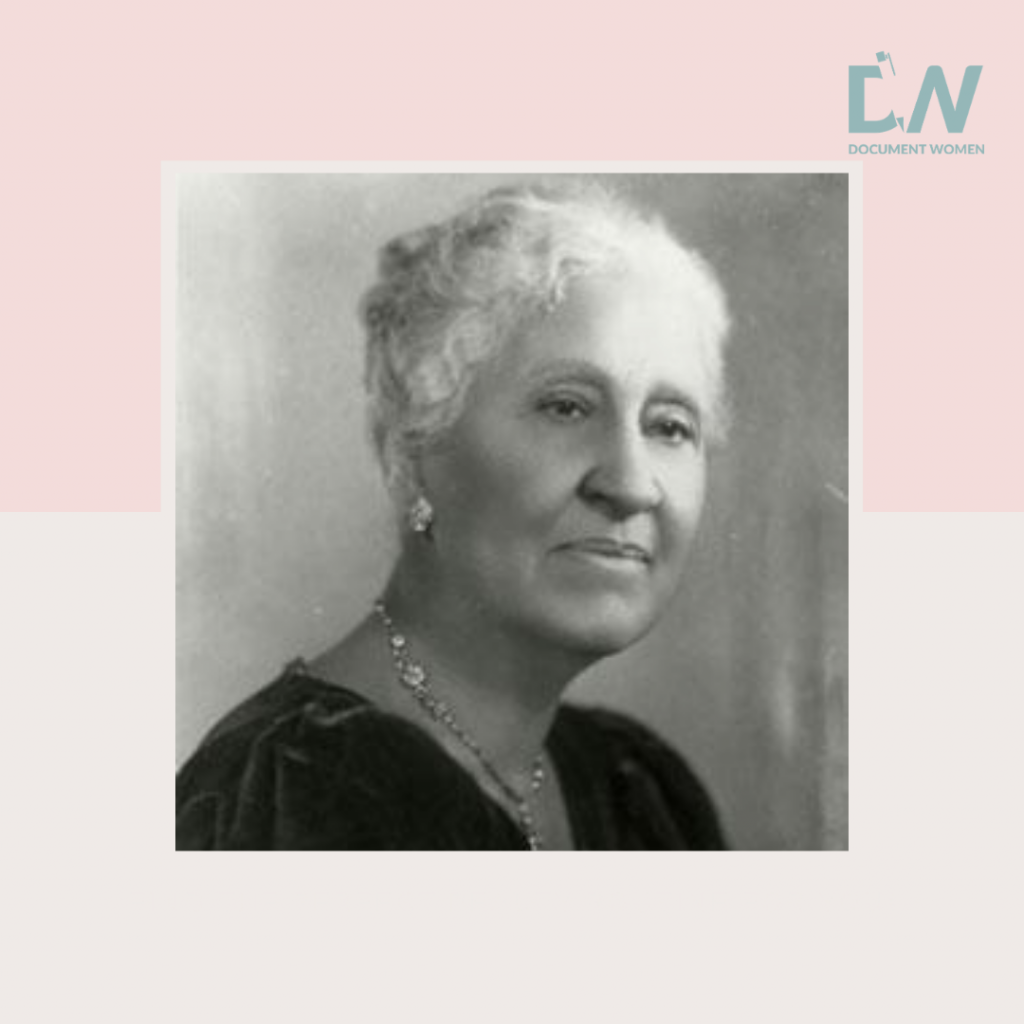 Mary Church Terrell taught in the Latin department at M Street school, the first African American public high school in the nation. Terrell was also a charter member of the National Association for the Advancement of Colored People (1909), the co-founder and first President of the National Association of Colored Women (1896), a member of the Colored Women's League of Washington (1894), and a founding member of the National Association of College Women (1910).
In 1892, when an old friend, Thomas Moss, was lynched in Memphis by white people because his business competed with theirs, Terrell's activism intensified. She joined Ida B. Wells-Barnett in anti-lynching campaigns but her politics mainly focused on the notion that the societal advancement of black people could end racial discrimination. She believed that black people could progress by advancing themselves and other members of the race through education, work, and community activism.
Being an Oberlin College graduate, Terrell was part of the rising black middle and upper class who used their position and relative privilege to fight racial discrimination.
When the Colored Women's League was established, its goal was to promote unity and advance the progress of the African American community. It was a group of progressive women empowering themselves and other women outside of the church setting. In collaboration with the suffragist and intellectual, Josephine St. Pierre Rufin, the National Association of Colored Women (NACW) was established to broaden the horizon of these iconic women and enable them to further impact African American women's lives.
The NACW's motto is "lifting as we climb", coined Terrell. The service-oriented social club aimed to create solidarity and a sense of community among black women while combating racial prejudice and discrimination. The organisation went on to create nurseries and kindergartens for black children as well as fostering growth in the community. Due to her numerous contributions to the field of childhood education, Terrell was appointed to the District of Columbia Board of Education, making her the first black woman in the United States to hold said position.
In her years as a college student at Oberlin, Terrell was an avid suffragist and her passion did not wane even after she graduated. Terrell was closely associated with the "National American Woman Suffrage Association", an organisation that, given its noble cause, was still deeply tainted by racism. Terrell was one of the few African American women allowed to speak at their gatherings where she championed the rights of black women.
On February 18, 1898, Terrell gave an address titled "The Progress of Colored Women" at the National American Woman Suffrage Association (NAWSA) biennial session in Washington. This impassioned speech was a call of action for NAWSA to fight for the lives of black women and to combat the racism preventing them from doing so. The speech received a great reception from the association and black news outlets, ultimately leading Terrell to be invited back. Her influence put her in a position where she was an ambassador of sorts representing the black female community in the suffragist movement.
In A Colored Woman In A White World, Terrell recognises that her life in Oberlin, a predominantly white school, was considerably easier than that of her counterparts due to her racial ambiguity. She understood the dynamics of mobility as a "white-passing" African American woman and its relation to her progress and platform at NAWSA. Terrell's journey post-university shows that this understanding led her to aspire to be a bridge between African Americans and white Americans and was the driving force behind her position at NAWSA.
Though Mary Church Terrell's motivation and belief that upward mobility is the solution to racial discrimination is problematic in today's clime, the intention and desire for the betterment of the black community that inspired it will always be imprinted on the sands of time.