I pledge to Nigeria my country
To be faithful, loyal and honest
To serve Nigeria with all my strength
To defend her unity and uphold her honour and glory
So help me God.
As a Nigerian child born and raised in Nigeria, there is a high chance that you must have recited the Nigerian pledge written above. At the start of official government events, school assembly and even some office events, this pledge is recited.
However, many who know the pledge, do not know of its author. For a lot of young people, it was her passing on 1st of May, 2021 that introduced her name on their lips. Professor Felicia Adedoyin.
Professor Felicia Adedoyin was a University of Lagos professor and was born in Shaki, Oyo State on November 6th 1938. She was inspired to write the national pledge in 1976 when her children questioned her on why as students in America and Ghana, they could recite the Oath of Allegiance in New York and the State Pledge in Achimota, Ghana but could not recite any pledge of Nigerian national merit whilst in school.
This then led her to write the pledge in a Daily Times article on July 15, 1976. The article was titled "Loyalty to the Nation, Pledge". This article was soon shown to the then head of state, Gen. Olusegun Obasanjo who modified it and decreed that all school children should recite the national pledge as part of their morning assembly routine.
Till date, this has become an official recital from every head of state sworn into office to the patriotic majority. The Nigerian National Pledge.
At the time of her death, Professor Adedoyin was a consultant with the United Nations and an educationist who as mentioned earlier lectured at the University of Lagos. She also received her PhD from Unilag.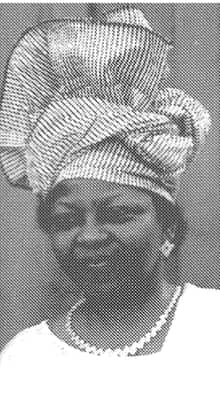 What this points to, is that women in Nigeria have always been involved in nation-building. If not as teachers and independence movement leaders like Funmilayo Ransome-Kuti, or as a mother who took it upon herself to curate the words holding national prestige so that her kids could have a pledge to recite that connects them to their homeland.
There is a need to not just be intentional about history in Nigeria, but to be extra intentional about women's histories being retold to the younger generation to show indeed through representation, that young women are a part of nation building and can run for presidential office posts because women like Remi Shonaiya have set the trail or be in power and maintain their stance as publicly identified feminists just as Bisi Fayemi does.
May Professor Adedoyin rest in peace knowing that her work will keep living on.