Women deserve ease too
The first time I saw a sanitary pad vending machine in my life was in 2019 in an office in London. It wasn't even a free pad, you had to put coins to get it out but I was so grateful. I came in with my own tampon and zero coins – because that's not a thing I normally take into bathrooms – but still, an organisation cared enough to provide me with ease and I felt seen for the first time. The truth is, and I know you don't want to hear it but, this is the bare minimum.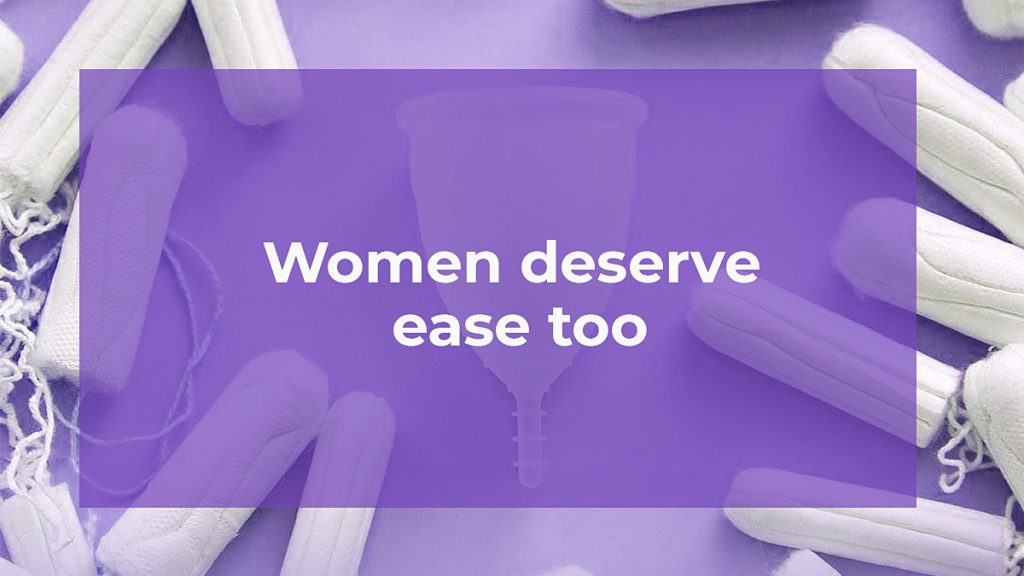 It was women's month this year, March 2021, when I came across this Instagram post. I was going to scroll past really but the question got to me. "Wouldn't it be strange if you got to the bathroom at work, and found toilet paper was no longer going to be provided by your office because bowels are private?". Makes you wonder right?
We've come to enjoy these "luxuries" and never have arguments against them because it makes sense right? It does make sense.

The likelihood that you will need a toilet in a place where you spend an average of 45 hours a week is quite high hence the provision of not just toilets, but other sanitary products like toilet roll, hand wash, running water, electric dryer, air fresheners and so on. Everybody benefits, nobody complains.
Before you remind me that not all offices have all these things, I'm well aware. Companies that can't afford to get these are judged as insufficient and are encouraged or even protested at to "level up". Somehow, when it comes to female-specific hygiene products, we remember all the logical reasons why companies shouldn't provide pads for the women, who like everyone else, contribute to the workforce and deserve ease at doing that too.
What happens when women don't have access to sanitary hygiene products at work?
According to a study conducted by "Free The Tampons", 86% of women have started their period in public without access to the menstrual products that they need to function throughout the day. Lack of access to menstrual hygiene products in places of work has continued to hinder women's contributions to the workplace. When women have their periods in the office, they have to hunt for products that should have been easily accessible. This reduces their productivity, lowers concentration and increases absenteeism from the workplace.

Today, May 28th is menstrual hygiene day and for this special episode of workin' womxn, I spoke to Karo Omu, founder of Sanitary Aid Initiative advocate, an organisation that supports rural women or women from low-income communities, girls in public schools and people who have little or no access to menstrual hygiene products. She knows first hand, the implications of lack of access to these products on work even as a woman who works.
There is a huge policy gap when it comes to sustainable solutions to issues of access to menstrual hygiene. It needs to be written somewhere in our practices that we as a government or as private organisations will provide free sanitary pads to girls in public schools or internally displaced camps. Policies targeted at menstrual hygiene management need to be prioritized.

Karo Omu
"The biggest challenge that I deal with personally, in terms of menstrual hygiene is the not having where to clean my reusable pads when I'm out and so I have to stick with the disposable ones" – Karo Omu
Many women like Karo depend on reusable pads as a more sustainable alternative to disposable pads and tampons. But the reality of this is, periods become a nightmare in the office.
Inspired by this Instagram post, we made this short film to illustrate and perhaps dramatize an alternate reality of what lack of access to sanitary products in offices look and feel like. In this film, we see how much work gets done while the lead is stuck in the toilet without access to toilet paper. This is the reality for many women like me.
Getting an unexpected period at work could easily become having a 'bad day' and it simply translates to spending productive hours searching for pads in blood-soaked panties, struggling to wash and dry my underwear in the office bathroom without being noticed and trying to mentally get back in the right headspace to get back into work. This is what a 'bad day' looks like for me at work.
Tampons and menstrual pads are just as important as toilet paper.
To commemorate World Menstrual Hygiene Day, we are documenting this female-specific problem – Lack of access to sanitary hygiene products.
"This gap is in part fuelled by a lack of affordable products and limited quality options". For Karo, it doesn't just end at providing sanitary pads, education matters but most of the conversation is limited by the shame we associate with periods.
There are over 5,000 euphemisms for the word menstruation around the world according to this international survey conducted in 2015 by a period app called 'Clue'. This points to a culture of shame. Period stigma wears a different face in different regions; from women not being allowed into religious houses when they're on their period, to women in villages requiring spiritual baths before cooking for their husbands when they're on their period – the common denominator is stigma.
Even in the growing urban communities, women have admitted to hiding tampons and pads with extra effort to prevent detection in the workplace. 57% of workers who suffer period related illnesses have admitted to lying about reasons for needing sick days and since this is not accommodated in many workplaces, women's income has been greatly affected by this. The taboo surrounding periods is having real-life repercussions on women's health & finances.
Access to menstrual hygiene products in the workplace can make a difference for the average working woman and we believe that providing sanitary products like pads and tampons for women in the workplace is a simple yet powerful way to promote menstrual hygiene. But beyond this, everyone benefits when women equally contribute to the workforce.
Help sign this petition on www.change.org/DWPadCampaign