Esther A. Armah is a Ghana-based, London-born international award-winning journalist, a playwright, a global public speaker – a self-described 'global black chick' – who has lived, worked, loved, created across three cities in three countries on three continents – London, New York, and Accra.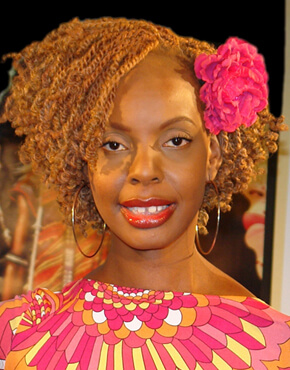 Esther is the Executive Director of the Esther Armah Institute of Emotional Justice and she leads a global team in Ghana, Chicago and London. Her most applauded work, which she describes as "more of a purpose than a profession" is centred on the concept of EMOTIONAL JUSTICE.
Emotional Justice, as expounded by The Esther Armah Institute of Emotional Justice is a framework for racial healing that grapples with a legacy of untreated trauma that shapes how global black and white people see themselves and engage with each other.
"Emotional Justice centres the wellbeing of global black women and girls, and works to make structural and transformational change within organizational culture, reduce systemic inequity, women's inequality and implement Emotional Justice as an integral part of thriving systems, sectors and structures." – Esther Armah
Esther is the child of Ghanaian parents and, fun fact, her father and Ghana's first president Kwame Nkrumah share the same birthday – 21st September. She is a traveller who has worked in Nigeria, Kenya, South Africa, Lesotho, Washington DC and Chicago.
Armah's Emotional Justice thought leadership manifests in the writing series featured in 'WARSCAPES'. Her writing has also appeared in Ebony.com, AlterNet, Essence.com, Gawker.com, Jay Z #444 Syllabus and published in the books: Four Hundred Souls: A Community History of African-America 1419 – 1619, 'Charleston Syllabus: Readings on Race, Racism & Racial Violence' and 'Love with Accountability: Digging Up the Roots of Child Sexual Abuse; which won a 2020 Lambda Literary Award'.

As a playwright, Esther Armah has written five Emotional Justice plays that have been produced and performed in New York, Chicago and Ghana. As a global public speaker, she has been featured at Netflix Inclusion Institute, Stanford, New York University (NYU), and Kenya's African Women in Media Conference and Festival.
Esther is an award-winning leader whose work has been recognized and awarded in Africa, the US, and is award-nominated in Europe. In Africa, she was named one of 'Africa's Women Leaders in the 2019 World Women Leadership Congress Awards by CMO Asia and the Africa Leadership Academy. In the US, she was named 'Most Valuable NY Radio Host' in The Nation's 2012 Progressive Honors List for her work on Wake-Up Call on Pacifica's, WBAI. For her Emotional Justice work, she won the Community Healer Award' at the 2016 Valuing Black Lives Global Emotional Emancipation Summit in Washington DC. In Europe, Esther has been nominated and shortlisted for the Tallberg SNF Eliasson 2021 Global Leadership Prize
Listen to Esther Armah simplify the concept of Emotional Justice, intersectionality and structurality of oppression with Awazi on our podcast, "We're Not Crazy, You Are"