"I have a song with 5.8 million streams on Spotify alone, and I have never gotten any royalties paid to me" – Bella Alubo
This week's workin womxn is 28-year-old Nigerian singer, musician, and songwriter, Bella Alubo. She tells us about her journey as an artiste, surviving record label, Tinny Entertainment, and how she handles being an independent artist.
How did you get into music?
I started writing stories as a child, morphed to poetry around my preteens, then started writing songs around 16, rapping around 19 and dropping stuff on the SoundCloud, which got social media support till I got offered a record deal and moved from Jos to Lagos to pursue music.
You got signed to a record label?
Well, while I was building an internet following for myself, I caught the attention of a talent manager at the end of 2016 who told me that a label I hadn't heard of but was apparently popular was interested in signing me. Fast forward to January 2017, I had signed the deal and was working super hard and learning a lot.
Can you describe this "deal" you signed with the record label? What was it?
It was a regular record contract signed after we both negotiated terms. The deal was never an issue. A lot of social media feedback was "Nigerian artistes sign contracts without reading them and learn the hard way," but I never had a problem with the deal on paper. I fulfilled all of my requirements by submitting songs and all that, but the label didn't adhere to theirs.
So at what point did things start to go sour?
The label boss started slowly with things like commenting on my branding, which makes sense because an artiste should be branded right, but he got more aggressive in his speaking tone. Everything was pretty much downhill after that, and he started refusing to pay for stuff that he had previously agreed to. My rent expired, and I had to squat because he wasn't communicating except for occasional completely unprofessional outbursts to me and others saying things like he'll "frustrate my career till I move back to Jos" and that if I think he's going to shoot a video of my song I should know he's never going to since I do not agree to what he asks. He asked to speak to my brother, saying maybe "a man will listen." He was just very erratic about getting his way even though it was a legal agreement independent of his wants.
Wow! Did you make any money from your music while you were signed?
I got an apartment to live in as a signing bonus and a 50k naira monthly stipend. I never got any of my royalties or royalty reports.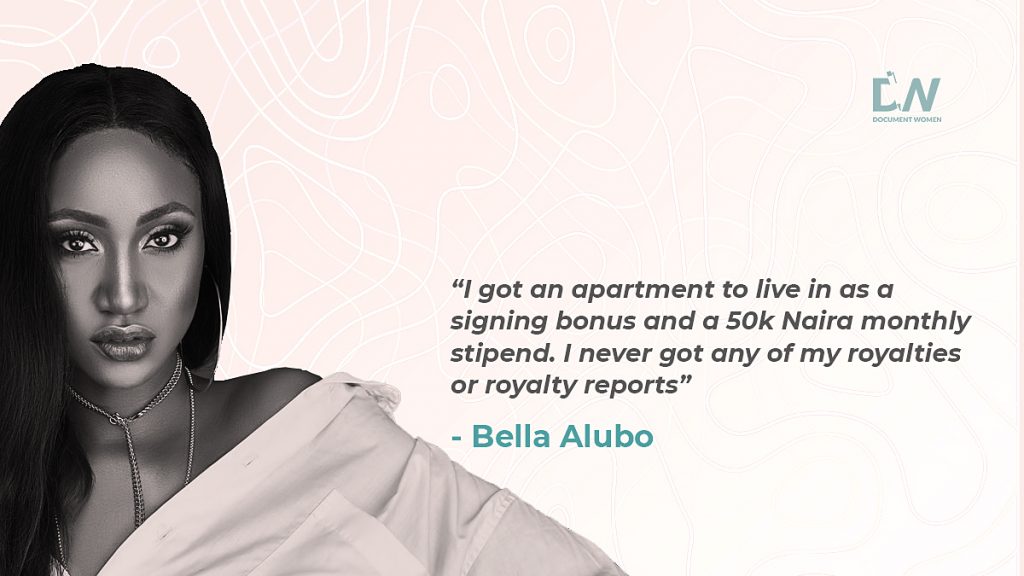 In what other ways did this label mistreat you?
Apart from being neglected, homeless, and having all promotional efforts end, I was in London for a concert the label had organized, and he did not foot major bills either. The accommodation wasn't sorted, makeup wasn't, transport and food weren't sorted. While he stayed in a penthouse in Stratford, London, we artists had to stay on the outskirts of London with friends/family and take trains every other day to report at his apartment. My family had to find a way to send pounds to me to survive. He raised his voice a lot in person. He had very weird accusations of things unrelated to him, like saying I had a crush on someone is how I'll get distracted, asking how I feel comfortable going around with friends who look better than me, asking if I don't see female celebrities like Toke Makinwa and why I can't look like that, asking me to DM Lola OJ and make her my mentor. Some of his rants were more hilarious than upsetting. The most important thing is finances, though. I have a song with 5.8 million streams on Spotify alone, and I have never gotten any royalties paid to me for that project and all releases under the label.

He said I owed 7 million nairas in recoupable expenses but ignored all my requests for account statements to show how much I've made, even though my contract said the label would send statements quarterly. I never got reports till this day, and from my rough estimates, I've made well over what was spent on me. The label telling some blogs they were 'letting me and the key artiste go' was the most pretentious thing because we wanted to leave, and they were doing all to slow that down.
The other artistes under the label went through similar issues?
Yes, all of the former artists have been vocal about what they went through, which included physical assault for one of them, and we all left within months of each other.
Did you ever complain or confront the CEO about feeling mistreated?
Of course. That's when I'll get yelling outbursts. I'll cry and be shaken for days because it's weird to explain, but he also tries to get in your head and make you feel like you need him to succeed and should be eternally grateful that he helped you.
Do you plan to take any legal action?
I tried to when I was leaving the label, but he never responded to any of my lawyer's letters, and my lawyer was pro bono, so couldn't keep chasing. I was just glad to be out of the situation at the time, and this only happened from our last letter saying if he didn't respond in 30 days, we'd consider the contract terminated. I'm completely indie with limited funds, so now it makes more sense to put my funds into my music than legal and policing fees that may take a long time. I definitely plan to as soon as I'm able.
So what are life, music, and career looking like for you these days?
So after I left, I applied to do a master's in international management & business development at GCU London, where I worked part-time hospitality & customer service jobs and graduated with a distinction last year. My graduation ceremony was called off due to the lockdown. Still, I felt proud because I gained so much knowledge and did my dissertation on streaming as a revenue source for Nigerian indie artists. This topic was relevant to me, and I plan to publish it as a book because I made so many relevant findings from interviewing industry execs. I moved back to Lagos in January 2021 and began compiling my debut studio album scheduled for release in August this year. I took a job in content management and creation, which was also a great learning experience, but I recently quit to focus on finishing up my album.
Tinny Entertainment is a record label owned by Mr Timilehin Arokodare, popularly known as small TINNY. In 2019, after this label celebrated 100 million cumulative streams across different platforms, popular Nigerian Artist Ycee called them out for profiting off the sweat of artistes. He accused the label of not paying the artistes their royalties, spreading lies about him and even leaking his music. Ycee left the label in September 2018 and is not the only person that has spoken out against this label in the past 3 years. In 2019, Azeez Olalekan, a former PR for Tinny Entertainment spoke out about the mismanagement of the signed artistes by the label. He described the CEO as a "ruthless boss with little or no regard for his staff."
We reached out to Tinny Entertainment for a statement to confirm or deny, but they did not reply.
Despite the emotional and financial abuse by her former record label, Bella Alubo says she will continue to do what she loves best, make music.

"I have a new music video for my single 'Gbolahan' dropping soon to keep supporters going before the album. I've just been working on loads of music, slaying, praying, and looking forward to the future."