Our #WorkinWomxn for this week is a former Drilling Engineer and Supervisor. With over a decade of experience in a male-dominated field, she shares her finest and worst moments in the industry with us and gives recommendations to young aspiring engineers.
Tell us a little bit about yourself.
My name is Oluwatope Adeyemi. I am the first Nigerian (possibly African and black) woman to run a deepwater drilling rig. I studied Chemical Engineering and joined the Oil and Gas industry as a Drilling Engineer. I did this for 13 years, after which I left to pursue other passions.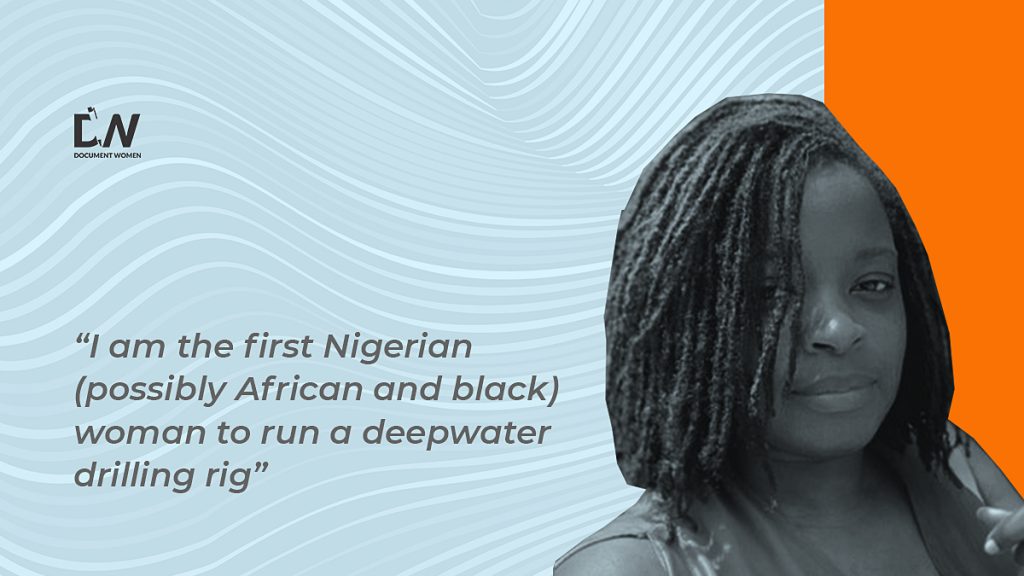 What inspired you to get into this industry?
I had always known I would become an engineer like my father, also because of my love for math and putting things together. The inspiration to work offshore came from one of the early scenes in the movie Armageddon. They had a blow-out (oil pouring uncontrollably out of the well), and they shut it in, and I thought, "I'd love to work there some day."
So what exactly does deepwater drilling entail?
Deepwater drilling is basically drilling for oil and/or natural gas beneath the seabed at a water depth of greater than 1000 ft.
What was a typical day as a Drilling Supervisor like?
The official shift on the rig for company reps is 6am to 6pm. Depending on what operations are happening and timing, the routine could change around. By 5am, I wake up and shower and leave the accommodations for the office by 5:45. By 6:00am, I review the daily report covering the last 24 hrs and operations, and edit where necessary. The target is to have it sent out to the office in town before 7am. 7am is for a fixed morning meeting with the senior contractors on the rig to discuss operations for the day and any other emerging issues. When it's 8:00 am, I check emails and respond to urgent matters. After that, I go outside to monitor how operations are going and engage personnel. 11:00 am is my lunch time, and after lunch, I go outside again. Sometimes there are particular operations where you could be out for hours. There were times when meals were packed and brought out to us. 5:00pm is dinner time and 6:00pm is for handover discussion with the night supervisor. I usually stay back in the office to respond to emails and/or prepare for the upcoming operations. By 10:00 pm, I go down to my bedroom and attempt to sleep.

Sounds hectic! How many other women do you know are in this industry?
Nigerian women? In deep water, I only know of the women who later joined the company, so maybe 10? But there are a lot more in land operations. There are most likely others in the other oil companies drilling offshore, but I have not met any.
Why do you think the industry is so male-dominated?
Engineering generally is seen as a man's role, and this mentality plays out in how women interested in the field are treated while getting the degree and ultimately at work. For example, after eight years offshore, I was told to come back into the office to help with the business side of things. It was supposed to last two years, and I'd return offshore. When the time came to start talks about returning, I realized my going back was not supported by supervisors. They all had their different reasons, but one of them later told me they wanted me to get married, and being offshore wasn't helping matters. Lol.

So, when the table was flipped, and you became superior, what was the experience like, being the boss of many men?
It really was a great experience. I learnt a lot from them. A lot of them I'd actually known from my early days offshore, so we just continued working like we always had. The only difference was I was now the boss.
What was the most exciting part of your job?
That no two operations were alike, anything and everything could go wrong at any given time, so you were kept on your toes. You always had to be ready for anything. The best part of the job, though, was helping change the impression of women working in the field. I remember one of the roughnecks came into my office once and said he'd discouraged his daughters from studying engineering but watching me over the years; he changed his mind.
Hm. What was the worst part?
The physical aspect of the job, especially as a new engineer. The first advice I was given when I got offshore was to know my equipment. For me, that meant going through all the equipment with the contractors, observing their operations, and constantly asking questions. Some nights I'd stay up because an operation I hadn't seen before was going to take place at nighttime. I'd say the responsibility when I became Drilling Supervisor was tough because I was responsible for million-dollar equipment and the lives of the people onboard. I don't think I ever slept through the night. I was always expecting a phone call. Another challenging part was realizing that I'd gotten to a point where I was kind of a threat to some of my peers. I wasn't an engineer who just happened to be female anymore; I was now the female doing the job they wanted. One of them told me I only got the job because I was female. This was my introduction to gaslighting, something I'd come to experience a lot later on in my career.
Tell us about an unforgettable experience you had while working this job.
That would be my first shift as Drilling Supervisor; the operation was particularly challenging, which led to a lot of sleepless nights. The first of such nights, two of the senior contractors, who I'd known since my first day offshore, came to me and said, "Tope don't worry, we've got you." We stayed up for maybe four days straight. Another unforgettable experience would be five years after I joined the company, watching the first Nigerian woman to join the department after me grow to be a kick-ass drilling engineer.
So, do you still do it full time, or do you have your hands in other things?
I left the company in 2018, and I work as a consultant now on projects as they come. Since COVID, I've set up a foundation, Kids Being Kids Foundation, where we focus on improving the welfare and development of children living in orphanages and low-income families through play, extracurricular activities, and financial support.
What advice would you give to any woman that wants to venture into this industry?
Bet on yourself. Forget all the naysayers, ignore all the noise, and follow your heart. There's nothing worse than living a life you don't want to live. Once you get in, as one of my mentors told me, know your equipment. Within the first five years of your career, get as much technical experience as possible. It will speak for you wherever you go. After that, figure out who you want to be as a person, engineer, and leader. With that clear, work hard, and it will pay off in the end.
Nigeria is the largest producer of oil and gas in Africa. The industry dates back to 1903, although oil production did not start until 1958 when Shell-BP discovered oil Oloibiri in the Niger Delta after searching for over 50 years. After over a century of its existence, the industry is still male-dominated as only 13% of all engineers in Nigeria are women. It appears Oluwatope Adeyemi is one of the few women who have broken the glass ceiling in this industry. Recognizing the challenges of being a woman in engineering, Oluwatope encourages women to support other women who are just getting into it. She said
"When there's another woman coming up the path you took, do everything in your power to make sure she doesn't face the same hurdles you faced. Don't see her as competition for the 'female spot' in a male-dominated team. I've heard, 'we went through it so suck it up', but struggling shouldn't be seen as a right of passage. The goal, yes, is to get a seat at the table but once you get that seat make sure you open more spaces up for those coming behind."