I'll be honest with you, I don't know a lot about the beauty industry, and when I introduced myself to these two women a few days ago at the start of our little rendezvous, I had no idea where the conversation would take us. What stood out the most to me, is how different these two women are – from the colour of their skin to their journey as models. Yet, Adetutu and Emmanuella have one thing in common; they are both navigating the complicated path of freelance modelling in Nigeria. This conversation took us everywhere from working as a video vixen without pay, to having 10 years of experience at only 17 years.
Let's start with a brief introduction. Tell us a little bit about yourself
Adetutu
I am a tambour beading artist, a freelance model with tribal marks and an indigenous jewellery designer. I am also a single mum.
Emmanuella
I am 17 years old. I am a freelance model right now and a student too.
What course are you studying at university?
I'm studying computer science at Caleb University.
Does this imply that you want to be a computer scientist? Is modelling still in your future?
I have always been interested in computers, but it wasn't something that I planned for. It just happened and I took it up. Modelling is something I plan on doing for as long as possible. I love it and it is in my future.
So how did you two get into modelling?
Adetutu
I have always aspired to be a model since when I was in secondary school. Then, I told some of my classmates that I'd like to be a model and they were like "how can you be a model? Have you ever seen a model with tribal marks?" So, my hopes were shattered but I still had it in mind. Then fast forward to 2017, a photographer was looking for a model with tribal marks. He said that specifically. That was how I got my first gig and since then, I started freelancing.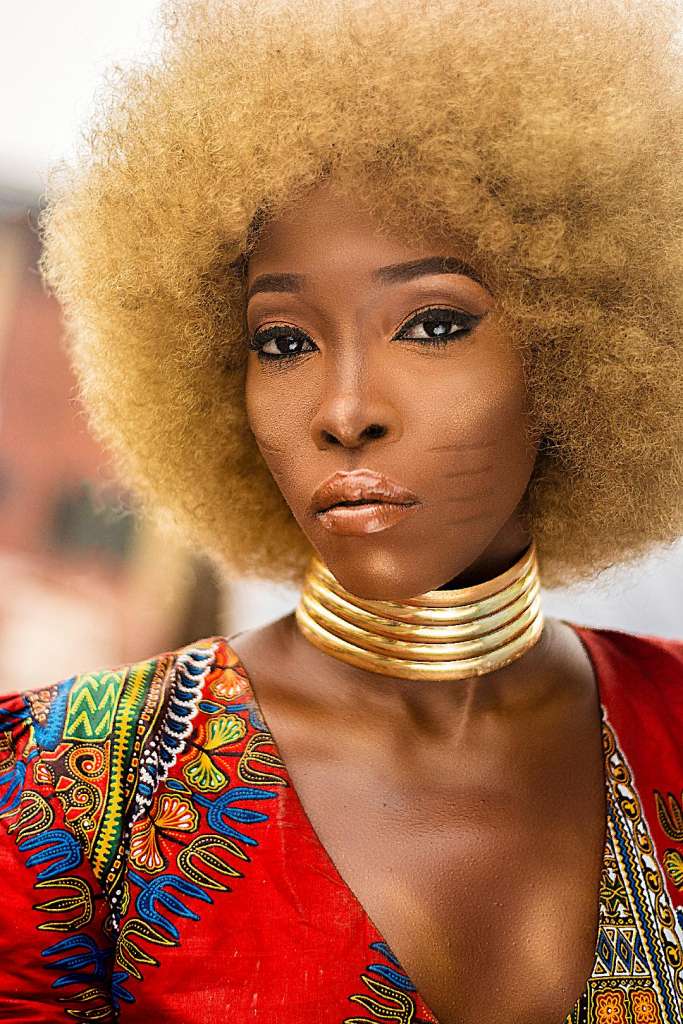 Interesting! Before modelling, what were you doing?
I was just facing my beading skill.
Emmanuella, what about you?
I think since I was little, I've loved posing in front of the camera and my sister would take pictures of me when I was five or so. Then in 2011 thereabout, my mum found a modelling agency for children and signed me up, and I think that's just how it started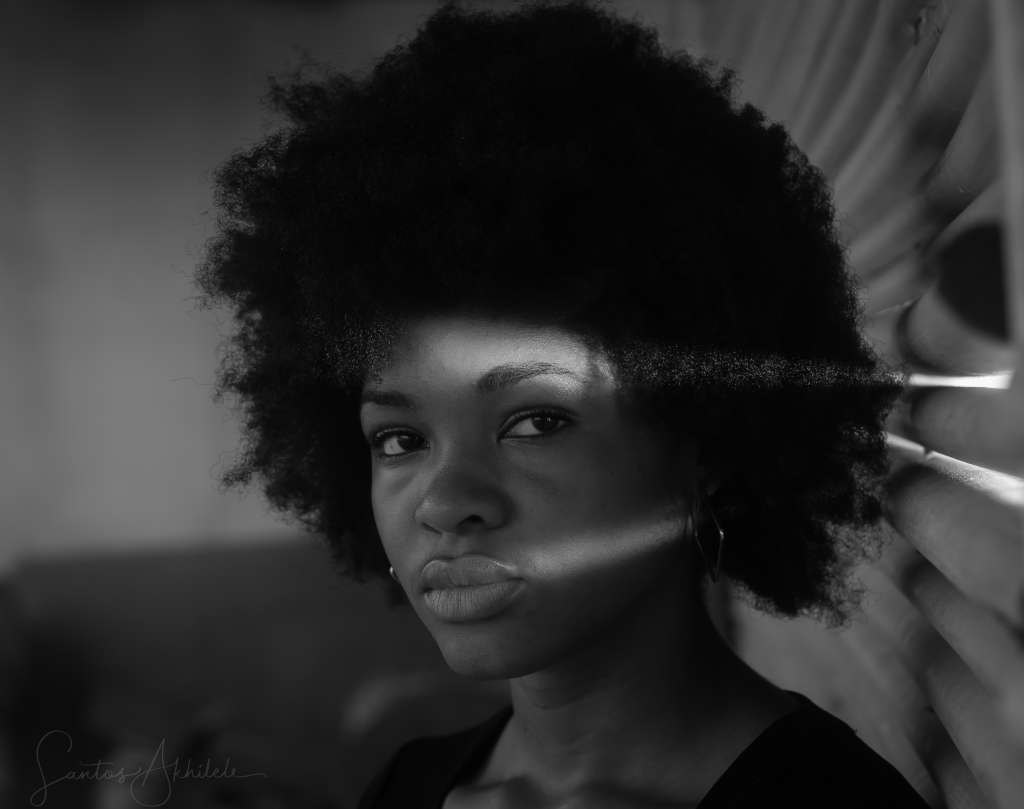 How old were you at this time?
I think I was 7.
So you have been a model since you were 7. That's impressive. Now that you are older, is your mother still your manager?
Right now, I'm managed by my brother. He is a photographer and all, we do everything together.
Okay so you have both mentioned that you are freelance models but I don't understand the concept, can you tell me your job description?
Adetutu
As a freelancer, some features make models unique and that's what they promote or make their brand. Just like how my tribal marks and being androgenous are my brand. That's what I'm selling. Some people are looking for this kind of look for aesthetics. So that's it about the freelance world.
And this aesthetics, this is what you look out for when you want to work with brands?
Yes, most of the time when brands contact me, they're all about the roots. That's it. Most gigs I get, they're just for me to look African and showcase the African looks. It works for me honestly.
Emmanuella
For me, freelance is just doing what I love. I get to do what I love on my terms, not run by any exact description.
So, do you wait to be discovered or do you go after brands yourself?
It goes both ways. My brother does most things for me because balancing school and work can be hectic. Sometimes you'd like to do something with someone and you can reach out and say "oh I'd like to try this. Then you can get discovered by someone who will come to you.
What are some of your favourite projects so far?
I love the shoot I did with Adetutu. I think that was last year.
Interesting! Go on! Give me the full gist!
I had seen Adetutu on Instagram doing different things. There was a particular commercial I saw her in and I was like "wow she's unique. She is herself." I was amazed and then my brother was like "I know her". That was it. One day he was like "come with me we are going to do a shoot". I didn't know Adetutu was going to be there, I had no idea. So we went and I looked out the window and I saw Adetutu coming in and I was so so happy. I think it just happened and I'm really glad it did.

You two are different and I know that you come across many other different models in the course of your career. Do you see other models as competition or potential collaboration?
Emmanuella
I don't see the competition because we are all different. We are unique. We have our different selling points and stories. To me, everything I do is art, it's the way I express myself so being able to share that with someone is amazing. I see it as having fun while doing what we love.
Adetutu
I see it as a collaboration but I know I had an issue with another model once. She was like she wanted a collaboration. Something came up, I don't remember what she said came up but she cancelled the shoot that day. Then she came again to my dm that she's ready for the shoot so I said " sorry I'm kinda busy" and the next thing she started insulting me that "is it because Rihanna is following you? You are proud" Ha. I just left it. Then, later she came to apologize that she was in a bad mood that day and I was like "it's good you said your mind o". So, for me to be able to work with that kind of model, it will take a very long time, even though she has apologized.
Wait wait! Did you just casually name drop Rihanna like I wouldn't notice?
Haha. Yes, she followed me in 2018.
Omo! How did it happen?
Rihanna did a shoot for Fenty glasses then. At that time, I had a shoot with a photographer, and the photographer released just one picture out of all the shots. He refused to release all the other photos due to some issues that we had. He found out about my sexuality and was giving me issues so I just left it and accepted the one picture he gave to me. So I did a picture mix with Rihanna's new shoot that kinda looked like the picture I just did. I posted that I would love to model for Rihanna someday. I didn't know it would get viral. Three days later, she saw it and she followed me on Instagram.
You mentioned your sexuality. Is this something you're comfortable talking about?
Yes, I can talk about it. I am confident about my sexuality so I can talk about it
Okay so what exactly happened?
Another photographer contacted me, I can't remember his name. So, I went to the shoot, and I got there. I didn't know the man knew the other photographer that was seizing my photos. So, let me call him Mr A. He asked me
"Who took this viral picture of you?".
I mentioned his name.
He said, "that's my son, I trained him".
So he called him and put it on speaker.
On the phone he said "well done, I learnt you are the one who took the picture of Adetutu".
Mr A didn't tell him that I was in the room there with him.
The next thing he said was "don't mind that girl joor, she is bisexual and I don't like it"
I was like Woah. So, this is the reason he is seizing my picture. So I just kept quiet and told Mr A not to let him know I was there that day. I just left the issue there and till this year he still hasn't released the other photos.
I'm so sorry to hear that! Has this happened again though? Somebody treating you unfairly because you are bisexual?
Well, the other people I've worked with don't know about my sexuality, they only know about my African Ifa religion stuff and nudity. Not everybody knows about my sexuality, he got to know me through my Facebook.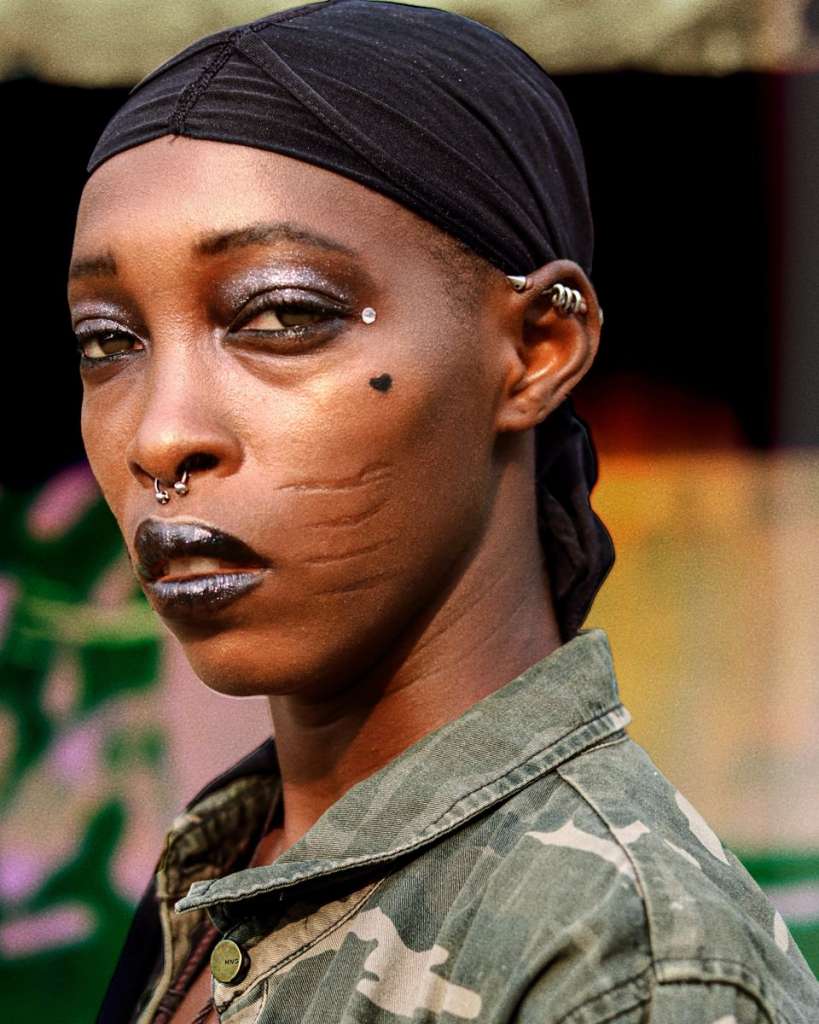 Okay so let's talk about beauty because I know that modelling has a lot to do with beauty. What has your experience with beauty been like?
Emmanuella
So, in the modelling industry, there is a lot of discrimination. People might tell you "you are getting too fat" even though your waist might be like 26 or "you're not tall enough. You're too short. You're too tall. You're too dark." You'll never be perfect for people. I think I'm out of that state of mind where I think I have to be a certain person to be beautiful or I have to be a particular size to be beautiful. I think we can all agree that we are all beautiful in one way or the other, and that is one of the most amazing things about being a freelance model because you model on your terms like "this is who I am. This is how I look " Take me as I am, this is my art, this is what I do.
You mentioned being "out of that state". Did you ever feel like you had to look a certain way?
Not proud to say, but at some point, I was getting really worried about my height because I think I'm about 5"6, and as the standard runway model is about 5"9 and when you want to go for casting, they'll be like "you have to be about 5'9" or "you have to be this size." So at a certain point, I was asking myself "will I ever be a model? Will I ever fit into that box made for us?" But now I'm out of it because I have an amazing manager that tells me "you know what? We are going to get in the way you are. You are going to be who you want to be."
When you were young, did you feel beautiful?
I don't know how to answer that. I just loved who I was. I mean I got some jokes about how thin and lanky I was but I loved who I was, and I think that is how we should all be, at least that's how I am.

At any point, have you felt that you were not beautiful?
I don't think so
Adetutu what about you?
I've talked about how I have been bullied most of my life. So, about beauty, me, I was not considered beautiful. I only heard "you are beautiful" from my dad, others would say
"you look like trash"
"tribal marks are repulsive."
"Can you just take your face away?"
"Are you from the village?"
"And she speaks good English, how can you speak good English with these tribal marks on your face."
So many things, even up to the moment when I had my child. The major reason why my daughter went to learn boxing is that she was like " I want to fight anybody that insults my mum when we are walking " and I was like "no madam, don't fight on my behalf. I have been experiencing this rubbish since I was a child". Yes, my childhood was a mess. It wasn't easy.
I'm sorry to hear that. Has it gotten better?
Has it stopped? No. But it has reduced because now they see me on tv and they're like she's popular for being a model with tribal marks so they are trying to form familiarity because everybody wants to mingle with someone popular. So, it has reduced for now.
So, do you feel beautiful?
I never thought that I was beautiful when I was young o. I was not. One day in secondary school, one of my friends came with sandpaper and said I should try cleaning up my tribal marks and I got wounded in the process. So I stopped trying to remove it.
Now that you're grown, do you feel beautiful?
I know that I'm beautiful and I post myself every day for whoever wants to see it.

As it should be! Now, let's talk about the pandemic. How did it affect your modelling career?
Adetutu
It affected me o and up to 2021, I have not gotten any gig since after the lockdown was lifted so it is that bad. The pandemic was not good at all. I just did my beading most times.
Emmanuella
I think the beauty industry, in general, was negatively impacted but I and my manager found a way. We made like stock photos projecting messages like "stay in your house", "wear your face mask", all those things. I think that was the only thing I remember doing during that period. It was just okay for me. We missed a lot of opportunities like casting and all because of the physical barriers, social distancing and all those things. During the pandemic, I took up photography and I did a youtube course on photography.
How do you think you can reverse the damages that the pandemic did to your careers?
Adetutu
For me, I know where the dry spell is coming from. I'm very controversial…you know when you are always on the news and they're like ugh! I go to some brand to work with them and they say they don't need anybody, meanwhile, they are looking for models to be their ambassador. I have a lot of commas, or what Nigerians call commas. So, it's tough.
Are you saying that the reason you didn't get jobs is because of your tribal marks?
Yes! They don't want to give me any job. If not for the Rihanna fame, I wouldn't have gotten the ones I got because before then, I saw hell. I don't know what can be done about that. That's why I decided to just sit back, take my pictures myself most of the time. Any collaborative shoots that I want to do, I go, but getting jobs, I don't know how to do it again unless maybe I leave this country.

Emmanuella, what about you?
Honestly, I wouldn't say I have the fame that Adetutu has; beautiful tribal marks, just being herself, etc In the industry, sometimes you want to go for castings but you get in and they're like "oh you are too short, your waist is 26 inches, we want a 24". And sometimes they already know what and who they want and you just might not fit in and that's very very discouraging. I hope I do better. I hope things get better for us regarding getting jobs.
Let's talk about money. What's the financial aspect of modelling? Is it good money?
Adetutu
Modelling is just a side hustle for me, so the money to me is like "let me just take it because I need it", it's not like the money I'm supposed to be paid. There are times when I know that I'm underpaid but I just have to do that work so that I can have something to just stock at home for my daughter, and just hold on to because here in Nigeria, they will tell you that they are just trying to help your life, so just take any amount. Just like how I did work for a betting company. Till now, they are still using my face in their video, even though the deal has ended. So, I am underpaid and there's nothing I can do about it, unlike foreign brands who appreciate me but here in Nigeria, it is tough before they appreciate you.
What's this deal you had?
The contract was to last for 6 months and I think it was 2019. It was supposed to be for 6 months and it has exceeded a year now and they still use it because I made a mistake by agreeing to an oral contract instead of a written one. So, I accepted my fault and allowed them to continue using my face.
Have you tried reaching out to them?
I did, but they said we didn't have an agreement on paper so I have nothing to say.
That sounds terrible
It's not fair. It's not fair at all. I also remember the time I posted on Twitter about featuring in a Nigerian pop star's video and was not paid a dime. Since then, most of the artists don't want to work with me again, they're like why did I go and say that online. I said, "But that is the truth, am I lying?" I was not paid a dime and you want me to keep quiet about it.
Did this pop star know about this?
He sent me a text himself that he would like me to feature in the video, and he would send his manager that we should talk. The manager just sent the address of the shoot. After the shoot, they didn't even say anything. When I was leaving, they just put me into a taxi to go. And because it was a shoot and I didn't want to embarrass myself so I just left the place.
Emmanuella do you have any similar experiences?
I can't fully remember but when I was younger, I remember my mum, because she was my manager at the time, having problems with agents. After all, they wouldn't pay early enough or they would take a big part of my pay. Sometimes it would take like 3 or even 6 months before I get paid. And I think this problem of not being paid enough or paid early is a big problem in the modelling industry, especially for freelancers.

It seems like the modelling industry is truly a reflection of Nigerian society; homophobic, and exploitative. I'm sorry you both had to go through all that, I wish things were different.
People like you and I see the end results, and not the process. We admire the beautiful models on the magazine covers without pondering on the process that birthed that cover. Adetutu and Emmanuella are just two in an industry that is designed to function this way. Both have and are still overcoming new challenges every day in the industry. While the beauty industry can strive to be kinder, one thing is certain: to Adetutu and Emmanuella, modelling will always be about expressing their true self and no amount of judgement, discrimination and exploitation in the world will ever take that away.