Heartbeat International is a network of pro-life pregnancy resource centres. Founded in the US in 1971, they are operational in over 60 countries with over 2800 affiliated pregnancy help locations including pregnancy help medical clinics, maternity homes, and adoption agencies. With a vision to 'make abortion unwanted today and unthinkable for future generations,' they run the 'Abortion Pill Rescue Network.' This network offers something called Abortion Pill Reversal, claiming that the abortion pill can be reversed in women who have changed their minds about having an abortion.
The abortion pill is another name for medical abortion, and it comprises two medications, Mifepristone and misoprostol, the latter taken 24-48 hours after the former. Mifepristone blocks the hormone progesterone which is responsible for the growth of the fetus, and misoprostol causes the uterus to contract and expel the pregnancy. Medical abortion has an efficacy rate of 98% and is typically prescribed for women who are under ten weeks into their pregnancies. Abortionpillreversal.com claims that there is an 'effective' process called abortion pill reversal that makes use of the natural hormone progesterone to reverse the effects of mifepristone. According to their website, their medical professionals have saved 64 – 68% of pregnancies this way.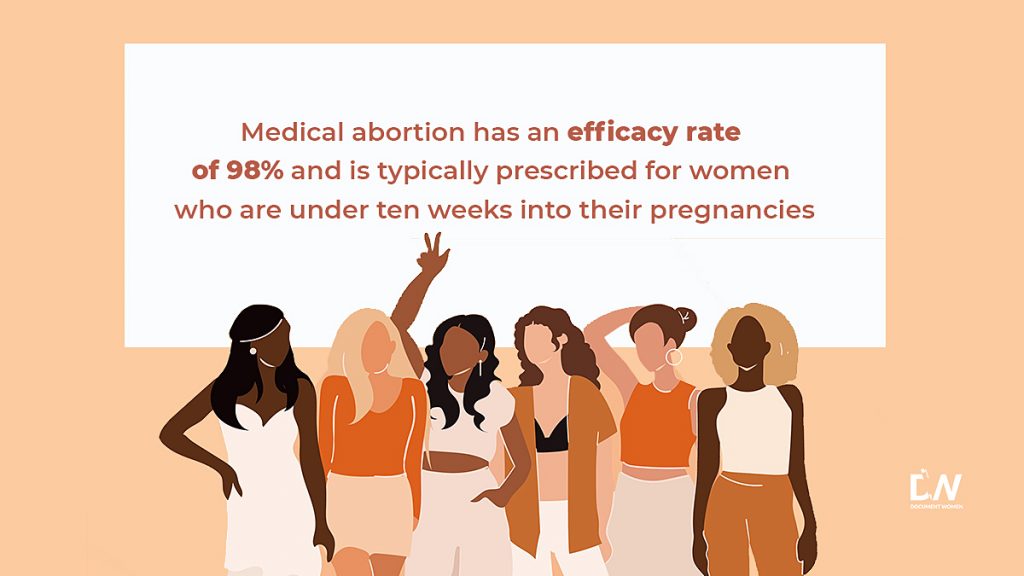 In collaboration with openDemocracy, we went undercover to get more information on this organization's operation in Nigeria. Our reporter, Amaka, posed as a 23-year-old woman residing in Lagos, Nigeria, who was six weeks pregnant and had taken the first dose of the abortion pill. Amaka got in touch with them via the chat option on their website, and an American-sounding nurse consultant who identifies as Kim C. RN reached out to her via telephone.
In their conversations – which occurred within 48 hours – Kim C. RN requested that Amaka fill a consent form to give her (Kim) permission to contact a medical team in Nigeria that would prescribe the progesterone and guide her through the whole process. When Amaka showed signs of fear and doubt regarding the procedure, she tried to alleviate these fears using religious sentiments.
"People are praying for you…asking God to send you a million angels. This is a really tough time in your life, and we wanna support you. Your heart is changing. God is working and just let him guide you."
The medication for the abortion reversal would cost Amaka about 20-30 dollars every week, and she would need to take it up until her 12th week of pregnancy. If she is not covered by insurance and is unable to afford this, Kim C. RN assured her that there are resources to cater for women who cannot bear the financial cost of this process. Following their conversation on the phone, Amaka received and signed a consent form via email, which stated that the Abortion Pill Reversal is "not FDA approved" and is an "off-label use of progesterone." This document also stated that she (Amaka), understands that the outcome of the procedure cannot be guaranteed, and will "seek emergency medical care immediately" if she experiences any heavy bleeding, faintness, severe abdominal pain or fever.
Although it is reiterated on their website that the Abortion Pill Reversal process is for women who have only taken the first dose (Mifepristone) of the abortion pill, the consent form does not discourage women who have taken the two doses from taking progesterone in an attempt to reverse the abortion. It reads
Currently, our program is designed to serve women who have taken mifepristone…However, for women who have taken the first and second drugs of the medical abortion regimen, mifepristone on day one and misoprostol 12-48 hours later, progesterone may be beneficial to support the pregnancy even though it is not an antidote to misoprostol.
In the last communication with this group, via WhatsApp, Kim C. RN said that she could not find a medical team nearby but recommended support places that could help Amaka get the progesterone prescription. These places include Catholic Anti-Abortion Crusade in Lagos and Project for Human Development in Surulere. We reached out to a spokesperson from Project for Human Development who confirmed that they are indeed affiliated with Heartbeat international. However, according to the spokesperson, they have not been involved in any abortion pill reversal process yet and are focused more on preventing abortions in the first place and helping these young mothers give their babies up for adoption.
The abortion pill reversal was created by Dr George Delgado, a California physician and medical director of Culture of Life Family Services. Despite several warnings from medical organizations that have called this reversal unsafe and unethical, Dr Delgado continues to administer and advertise this procedure. He also accepts speaking engagements, where among other topics, he pushes the debunked claim that abortion is linked to breast cancer. In 2018, the University of California, San Diego (UCSD) asked Dr Delgado to stop listing an affiliation with them.
In 2018, Dr Delgado published a case series on 754 women who had called a reversal hotline. Out of the 547 women who were given progesterone within 72 hours of taking Mifepristone, 257 reported live births, giving a reversal rate of 48%. According to Dr Delgado, this proves that the Abortion Pill Reversal is a safe and effective procedure. This study has been criticized in The New England Journal of Medicine for its methodology and results. Another attempt to study the Abortion Pill Reversal process had to be stopped over safety concern. The lead researcher on this study said "It wasn't safe for me to expose women to this treatment."
"Claims regarding abortion "reversal" treatment are not based on science and do not meet clinical standards," says the American College of Obstetricians and Gynaecologists.
Abortion is legally restricted in Nigeria, and conversation on this topic is controversial. The only legal way to have an abortion in Nigeria is if having the child endangers the mother's life. Asides from the law, abortion is morally frowned upon by many, if not all, religious bodies in Nigeria. Nigerian women who want to have an abortion often go through illegal abortion clinics or attempt it themselves. These factors make Nigerian women a vulnerable group for the Abortion Pill Reversal process – from those who feel guilty about their decision to abort to those trying to avoid any medicolegal complexity of abortion.
An abortion pill reversal, if possible, is another way that women can exercise bodily autonomy. However, this process is still largely untested and has been labelled unethical. With no sufficient evidence to prove that it works, these women could be partaking in a dangerous human trial.
Additional reporting by Kiki Mordi