Three Nigerian women anonymously shared their abortion tales with us, and the reality is unsettling.
Sade was 16 years old when she was raped and became pregnant. Having no family member she could turn to for support, she asked her friend, a medical student who told her to get misoprostol. She procured the pill from a pharmacy and followed the instructions all by herself. Although the abortion was successful, nine years later, Sade is still dealing with what she considers side effects of the procedure, such as severe abdominal and body pains during her ovulation and period – which she never experienced before the abortion. Sade, who is now 25 years old, believes that every woman should have access to safe abortions. However, she did not always hold this view.
"That single situation turned my life around, and it made me stop judging people. Before that, I used to be extremely judgmental. I just thought people brought pregnancy on themselves. You know, unprotected sex and all of that. However, the situation they are in might not be their fault, but they're in it anyway, and they just wanna get out of it."
Kachi was not so lucky with the pill as her situation got a bit complicated. She was 23 years old when she discovered that she was four weeks pregnant. Certain that she did not want a child and getting no response from the person who got her pregnant, she bore the financial cost alone. Unable to get mifepristone, she settled for only misoprostol which she claims did not work. Kachi describes the experience as 'scary.' According to her, she bled as the textbooks said she would, but she did not feel too well afterward. So, she took a pregnancy test again and discovered she was still pregnant. After making inquiries, she found a private hospital to get an evacuation from and went alone.
"It happened at night, and I used an Uber to and fro. The doctor didn't even want to use anaesthesia; I had to strongly insist. It was weird. I wasn't admitted after the procedure. I was sedated on my way back home, so I was afraid and paranoid that the driver would carry me away."
Being a healthcare professional, Kachi considers herself lucky.
"I had to go through corners to do mine, and despite how it looked, I had it easy; there was access to drugs and colleagues. I can't imagine what it's like for people without that.
Carrying a pregnancy to term by force is inhumane."
Many anti-abortion arguments claim that having an abortion could lead to mental health problems and stir up negative emotions in the person. However, researchers have found no connection between abortions and mental disorders, and studies have shown that most women feel happiness and relief after having an abortion. A 2013 study revealed that women who were denied an abortion felt more regret and anger than women who successfully had one.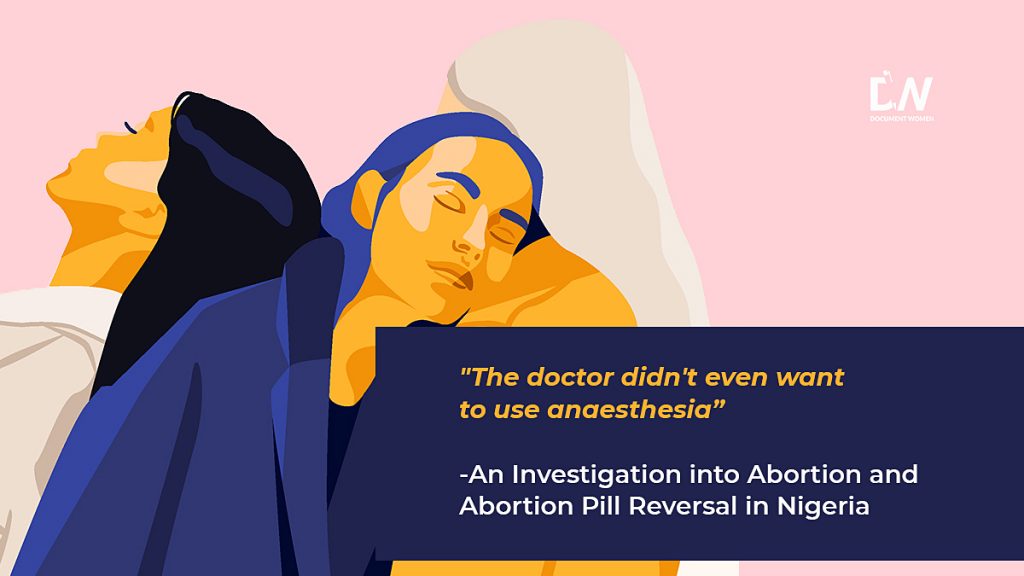 For Zainab, who had an abortion when she was 21 years old, this is what she had to say.
"Afterwards, all I felt was a lot of relief. It was pain-free for me, and I was safe, and more importantly, it didn't damage me in any way that I can think of. Also, I didn't feel like I just killed anyone or something like that."
This argument, although specious, is not unrelated to the truth. While some women truly experience negative emotions before or after an abortion, it is often linked to the stigma and lack of access to abortions, and sometimes, the pregnancy itself.
"I try to tell myself that I'm not ashamed or worried about the stigma, but it's not true. My best friend doesn't know, not because she'll judge me or not understand. But I just don't know. So other than me and my boyfriend and of course the very kind woman who listened and helped me get what I needed, I've never shared this with anyone," Zainab disclosed.
Abortion has always existed, and even the tightest anti-abortion laws do not stop it from happening. According to a study conducted by Ipas, an international non-profit advocacy group, over 2 million abortions occur annually in Nigeria. The consequence of these anti-abortion laws is that women with unintended pregnancies are forced to have unsafe abortions. According to a Guttmacher study, in 2012 alone, 212,000 women were treated for complications of induced abortion in health facilities in Nigeria, and almost 10% of near-miss events – cases where the woman would have died without the quick intervention of health services – were attributed to unsafe abortions.
There is a lot of controversy on the morality and spirituality of abortions, and anti-abortion rhetoric often rests on this premise of immorality and sin. However, many things are often left out of the conversation, such as the physical, social and mental health of the women denied access to abortions. These three strangers have more than just abortion in common. Their stories share common themes of uncertainty, despair, and loneliness.
"Very often, I come online or watch the news and find one debate or the other about my womb and what I should do with it," says abortion rights activist Oluwapelumi Alesinloye-king.
"Imagine reading that supposedly more liberated countries are funding organizations in Africa – not to help kids born to poor mothers or provide support for teenage mothers- but to force a woman to carry her pregnancy to term. It may be our bodies, but it is not our choice."
Additional reporting by Kiki Mordi
All three episodes in one place? Read here