AN ANTHOLOGY OF 11 INSPIRING TESTIMONIALS BY WOMEN WITH NOTABLE FOOTPRINTS IN THE SANDS OF OUR TIME.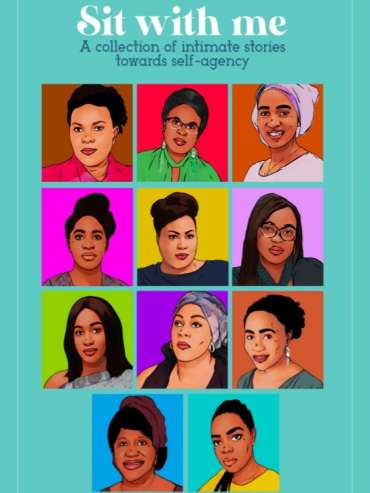 Empowered women empower women, that is why these stories must be documented. There are lessons on resilience, confidence, identity and self-assurance to take and sit with for every reader, through these first-hand accounts of what it is to take back your life into your hands against the odds.
This stirring anthology highlights the journey of 11 intergenerational African Women of varying backgrounds and captures the inspiring stories on the becoming of these amazing women who are now prominent figures at the forefront of the fight for the liberation of the African Woman and girl child in their various countries. These women, through advocacy in their own ways, are curating platforms and opportunities to create and leave behind a much better African society that is a lot kinder to Women and girls, than the one they were born into.
In "Against All Odds" Deborah Nakatudde takes us through her gruesome experience, surviving the streets as a teenage sex worker and her journey that led to the start of her very own grassroots NGO by sex workers for sex workers, providing resources and healthcare for sex workers, providing HIV treatments and prevention support for sex workers and organising workshops on sexual and reproductive health in Kampala, Uganda.
In "Bearing the Brunt" Bintou Diallo discusses the stigma she faced growing up as a child born outside wedlock, emotional neglect from her parents, her suicide attempt and a journey that led to her becoming a pillar of support through various programs she has spearheaded, for youth networks all over Africa, advocating for youth advancement and promoting quality education, entrepreneurship and leadership for women in Burkina Faso and across Africa.
In "Breaking Free From Oppression" Aissata Amadou highlights the ordeals of the lives of Malian girls like herself, who are sold to child marriage at a very young age with little to no priority for their education and how being lucky enough to escape such an ordeal has influenced her fight for the protection of women and children's rights. She also highlights the epidemic of female genital mutilation in her community, how it has affected her and how her experience has pushed her to up her fight against the archaic practice in her community.
In "On Borrowed Happiness" Kiki Mordi recounts her experience with sexual harassment during her undergraduate years, an ordeal that cost her her university years but led her to find and use her voice to speak against the evil of sex for grades within her University community; a journey that later led to her investigative journalism prowess in exposing the depth of sexual harassment among lecturers in Nigerian and Ghanaian Universities through the Emmy-nominated BBC Africa Eye sex for grades documentary.
In "Forever Compensating" Wana Udobang takes us on her journey to loving and accepting her body and unlearning societal projections on what women with fat bodies deserve and don't deserve. She talks about the politics of beauty in our society and her daily emancipation from how she allows it to influence how she navigates her life and her journey towards creating spaces through poetry and storytelling for women to feel safe and seen.
In "Ability in Disability" Virginie Zoubere discusses her experiences as a woman living with a disability and the stigma she has had to endure, from being denied job opportunities to being rejected by the family of a suitor. She talks about learning to rise above the stigma of her disability and reach her full potential, a journey that resulted in her being the first woman with a disability to be recruited at Banque Atlantique in Burkina Faso and has laid a foundation for her advocacy for the inclusion of people with disabilities in her country.
In "Revival" Mira recounts her tainted childhood experience of rape and female circumcision and the pain she had to continuously live with. She talks about learning to find her voice and creating a platform to inspire other victims of a similar fate to speak up and take a stand against injustice toward women and girls in her community and her continuous fight to put an end to female circumcision in Burkina Faso.
In "The Abortion Journalist" Bibiche M'Bete takes us through her journey advocating for women's reproductive rights that earned her the nickname "the abortion journalist" for over decades. She talks about her lack of proper sex education, growing up in a conservative Christian home and what that cost her in the long run. She is a well-known journalist in Congo and continues to use her platform to raise awareness on sexual and reproductive health and provides support for women and girls in need of reproductive health assistance.
Wendo Azed speaks of her self-discovery journey in "In Search of Love," her struggle into motherhood so early in her life and her constant battle to provide for her children. Through her experience, Wendo who is now the CEO of Dandelion Africa, a grassroots NGO in Kenya that focuses on women's health and economic empowerment, is making sure that other women do not have to experience the fatal blow of poverty.
Marie Angelique Savene in the "Iron Lady" recounts her years of activism in Senegal and Parid that led her to the woman she is today; a true African feminist Icon.
In "The Architect" Kadidiatou Gueye discusses her struggle to earn respect and credit in a male-dominated career industry and how she was constantly undermined by even subordinates because she was a woman. She talks about breaking through all that and making a name for herself in Dakar.
This anthology was collated and compiled by Niyel, a Senegalese-based advocacy initiative that specialises in impact-driven creative strategies for socio-cultural and economic development in Africa. The Ebook was launched on their website and is available for public download.