"You can do it!"
This is Joyce Daser Adams' favourite quote. They are her late father's words and they inspired her to start Auto Lady Synergy Company. This Plateau state native owns two automobile shops in Abuja and one in Jos where she offers painting, bodywork, carwash, maintenance and repairs of all types of vehicles. She also trains young girls to become mechanics and her payroll is full of women whom she trained. We spoke to one of her trainee mechanics at Auto Lady and mother of four, Juliet. This interview was done in Nigerian Pidgin English.
Tell us small thing about yourself.
My name na Juliet Moses. I come from Cross River state. I dey speak Iyalaba by tribe. I also dey hear Yoruba, I dey hear Hausa, I dey even hear French. If you teach me your own language, I go hear and I dey hear mechanical language too.
Why you decide to do this work wey you dey do?
Sinceeeee if I see say women dey do work wey men dey do, I dey happy well well. I no dey like hear say woman no go fit do this kind work because she be woman. I no believe say work dey for this life wey woman no fit do. So, me sef I con say "Kai! I go like to do wetin man dey do oh". Na so mechanic come enter my mind next.
How it take start?
I see Joyce Adams for Facebook where she dey advertise say she wan train women for mechanic. She get inspiration to train young girls and women wey wan go into mechanics, na im I come find interest. That one really touch me. E inspire me well well. That's why I con join her dey do mechanic work.
Shey people dey treat you differently because say you be woman for this job?
Ah! Dat one dey o! Dat one dey! Dem dey treat me differently because I be woman. Some customer, if dem enter, dem no go even like make you touch their car. Like the other time, one customer come, I say make him gimme him car key make I go drive him car. He say "Noo" make woman no touch him car, him no want make woman repair am. Some go even ask you – if you go meet them say you be mechanic – say "abeg, dem wan see your oga or another man wey be mechanic". Sometimes for road again, if we dey waka, maybe with our overall, we wan go buy things for market, you go see say some people go just stand dey look like "ehen! Na women dey do mechanic so?" Some people go dey look with one kain eye as if we too dirty. Nobody go even follow you talk. So sometimes, dem make shame wan catch us but as na my work, I no dey too see am like shame, I dey enjoy wetin I dey do.
You don marry?
Yes o! I don marry with 4 children!
Nice! So how your husband take feel about your job?
At first, e no easy o! When I tell am say I wan go learn mechanic, e say "Hmm! You wan go learn mechanic? Wetin you wan go do for there? Dem tell you say na food dem dey chop there?" I say "I know say no be food but I go go and I go learn am. Even your moto sef, I go con help you dey repair ". But that time, im no like am. Sometimes, I go come back, I go don tire. I go come sleep, him go dey complain because I get children wey I go take care of. All those kain thing. But as him dey see say I don dey learn the work, I don dey sabi am, dem dey call me for work and money dey come from the work, now im support me.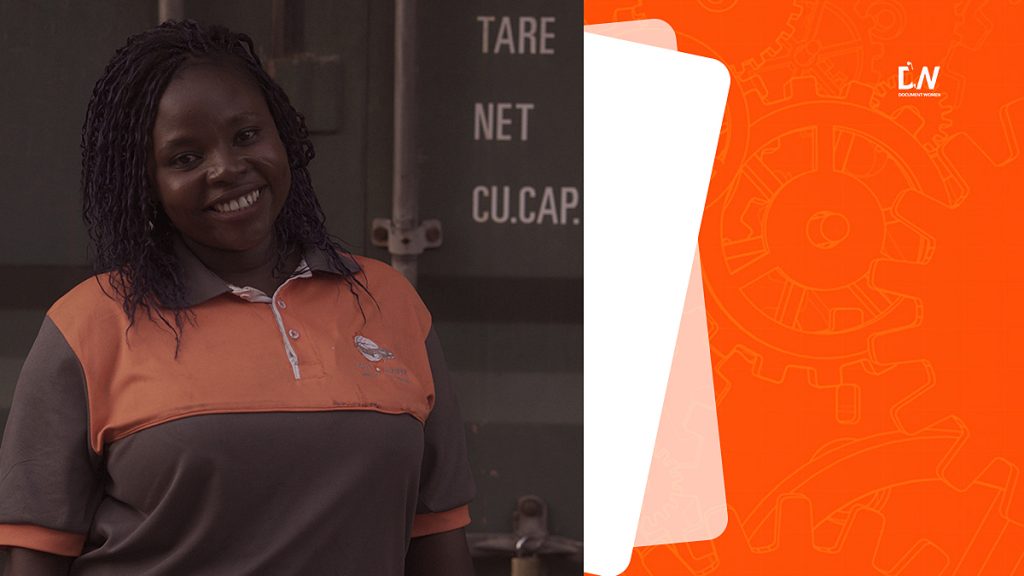 Shey you go advise other women make dem learn this work?
Yes o! I dey advise make dem come do this work wey we dey do because ah! You no go come siddon for house say you no see anything to do. You need to come this place come do work. And this place no be only for man. My Oga sef na woman. I know say plenty people dey see am as if na man work but no be only man work. If you no dey here, you no go know say you fit learn am until you come inside, you go see say everything na small small. Before you know it, you don learn am.
This work wey you like so, how much you dey carry home at the end of every month?
Ahhh! Una wan know the specific amount? I dey carry money go house every month sha. You know this work wey we dey do, na the passion matter, the money no too matter like dat. Every month, i dey carry money go house wey dey help me and my family.
For your mind, the money wey you dey carry go house, you dey okay with this money?
Yes, the money dey okay.
Okay, so based on this amount, you think say you be big person or small person for society?
Ah, me i don already be big person since wen I start this work. So, for the society, I be big person.
But how you think say people dey carry you for mind?Asin you be big person or small person for their mind?
Ah e depend the kain place o. For my area now, if i dey commot, dem dey see me as one big madam so i fit go another place now, dem go dey look down on me so it depends, na personal something. Me, i don know say i be big madam, i dey waka my own. Some people dey see me as big madam, some people dey see me normal normal.
You talk say you don marry and you don born pikin. How you take balance your children with your work because I know say to be a mother no dey easy?
Yeees. Dat one no dey easy o and you know say this our african men mentality. Na woman go come cook, na woman go do everything. No matter wetin she dey do, she go still come house come cook that food for her husband. So, I dey try wake up very early, make I come arrange the children make dem dey go school, then clean the house, con commot. If I come back, I go still come cook for them make them eat so na me still dey do the cleaning. We dey manage am like that.
Your husband dey help you so? For the cooking and cleaning for the house? Abi how?
Ahhh! Dat one! Dat man no dey help o! E no dey help anything. You know say e go just wake up, carry him mind dey go work very early. E go con come back late so im no get time at all. Na me dey do all the cleaning but we still thank God.
Shey na you be the breadwinner of your family or na your husband or na both of una dey spend money? How e take be?
Na both of us dey spend the money o! As him dey bring im own, me i dey help am for one corner like dat. Like all those small small things wey children dem need for school. I dey help put money too. We dey do am together so the family go grow well.
Julie Moses' story is more than just a woman forging ahead in a male-dominated industry. She is a #WorkinWomxn who works 8-5, 6 days a week, picks up some financial responsibly in her home and single-handedly takes care of 4 children as well as the house chores. I realize that our conversations on working women have been neglecting one key element – the impact of gender roles on these women. The patriarchy is unrelenting and women all over Nigeria and Africa are on the receiving end of this cruel system. This conversation is layered and intersectional as elements such as culture, religion, and poverty, influence the outcomes of this situation. Women are working at their jobs and in their homes but only get paid for one of these roles. Taking care of house chores is a job on its own, and working women like Juliet do both.